Where have i been? Well, school isn't kind, not at all, which is what i've been mostly busy with, yet it doesn't stop me from checking game news. So i would like to share some big game news as of this morning. As you can see from my title pic and title, it's a heavy focus on 360 games (w/ sources from Xboxyde, Famitsu, IGN, Jeux-France etc.). I'm mostly interested in the Mistwalker games of course (and obviously moreso on Blue Dragon since y'all know i'm a Toriyama whore).

So anyways, Blue Dragon has been given a date of Dec.7 (in JPN) and will cost 7,140 yen. There will also be a Blue Dragon bundle w/ the JPN 360 that will cost 29,800 yen. The official site went up today but won't open till the 22nd of this month. A trailer was shown for the TGS conference w/ Sakaguchi (IGN rundown of the MS conference) and can be found at either Xboxyde or J-F (latter is streaming). Official JPN Xbox site updated the games section w/ some sweet screenshots of Zora (the hawt mercenary chick if you haven't been following), oh and of course, Shu and the gang.

Also on the MW front is of course, Lost Odyssey. It was just mentioned that the game will be released sometime in 2007. Xboxyde has a sweet intro movie.

Then there's the Trusty Bell trailer from the MS conference.

Lastly, to finish out the 360 news i'd like to cover is the a new FMV CG trailer of DOAX2 for you horny fanboys as well as new screenshots ;).

In other gaming news:
Ninja Gaiden Sigma announced for PS3!! - (i'll translate for ya since i can read french, yay for my bilingualism in Canada! :P) it's essentially another upgrade to NG, but this one being the 'most complete'. Rachel will be playable, graphics, combat will be improved (ie. being able to use two katanas at once)

Continuing w/ JF/Famitsu news is the news of Level 5's next game. A scan of White Knight Story is unveiled in Famitsu. The game is for the PS3. (Added: Clean scans @ Ruli)

the TGS trailer of

Metal Gear Solid 4: Guns of the Patriots

will be approx 6 mins. long. The shooting style and perspective will be reminiscent of RE 4's camera. Here's some Famitsu scans from JF.

FFXII Revenant Wings info - which i'll translate for the interested: Motomo Toriyama (i'm not a whore of this toriyama ;) :D) is the director and in charge of scenario for this game. He worked on FFX-2 and is working on FFXIII. Ryuma Itou (of FFTactics Advance) will be in charge of chara design. It takes place after FFXII as Vaan and Penelo are 1 year older. It will focus more on their relationship (they're bf/gf if ya' didn't know u FFXII virgins :P) and adventures in the sky. Penelo will play a greater role this time and the combat system will make use of the touch screen. A Ruliweb scan.
Front Mission First is announced on the DS
JF would like to let you know that Castlevania: PoR (DS) JPN site is up
Some Mega Man DS scans and shots

what's been on a lot of ppl's minds lately is the back and forth of the Wii region issue. Well, 1up says that it WON'T BE REGION FREE according to Nintendo of America...so yeah, that really sux. Oh well, there's always mods.

Lastly some Famitsu scores:
Pocket Monsters Diamond & Pearl (NDS, Nintendo): 9 / 8 / 9 / 9 - (35/40)
Joshikousei Game's High! (PS2, Idea Factory): 6 / 7 / 6 / 5 - (24/40)
Aria: The Natural (PS2, Alchemist): 5 / 5 / 5 / 5 - (20/40)
Sekai no Zente: Two of Us (PS2, Yeti): 6 / 7 / 6 / 5 - (24/40)
San Goku Shi XI (PS2, Koei): 7 / 8 / 7 / 7 - (29/40)
Full Spectrum Warrior: Ten Hammers (PS2, Sega): 7 / 6 / 6 / 6 - (25/40)
Otome no Jijou (PS2, Nine's Fox): 5 / 7 / 6 / 5 - (23/40)
.hack//G.U. Vol. 2: Kimi Omou Koe (PS2, Bandai Namco): 8 / 8 / 8 / 8 - (32/40)
Quartet! The Stage of Love (PS2, Princess Soft): 7 / 7 / 6 / 6 - (26/40)
Tom Clancy's Ghost Recon Advanced Warfighter (PS2, Ubisoft): 7 / 7 / 7 / 7 - (28/40)
Project Sylpheed (Xbox 360, Square Enix): 6 / 8 / 7 / 8 - (29/40)
Full Auto (Xbox 360, Sega): 7 / 7 / 7 / 6 - (27/40)
Boxer's Road 2: The Real (PSP, Ertain): 6 / 7 / 7 / 6 - (26/40)
Astonishia Story (PSP, Compile Heart): 6 / 6 / 6 / 7 - (25/40)
Chronicle of Dungeon Maker (PSP, Taito): 9 / 10 / 8 / 7 - (34/40)
Eiyuu Densetsu: Sora no Kiseki FC (PSP, Falcom): 9 / 8 / 8 / 7 - (32/40)
Fish Eyes Portable (PSP, Marvelous): 6 / 6 / 7 / 5 - (24/40)
Remindelight (NDS, Taito): 6 / 6 / 7 / 6 - (25/40)

Okami and KoF 2k6 should be arriving at EB today. So hopefully i'll be able to pick 'em up and show pics either today or tomorrow.



edit 12:50 PM EST

: More gameplay vids of Blue Dragon from Xboxyde (simply AMAZING)!! I also decided i wanted to add some Infinite Undiscovery shots since i forgot it's by Square Enix and Tri-Ace.

Some SNK news I'd like to add:
I mentioned some possible

KoF XII

rumours/fakes at Cyberfanatix. Here's the site w/ possible fake news and shots of the game. Would be cool if confirmed true. Rosa in KoF would be sick!!!

SNK Slot Panic v.1 is up for preorder at P-A.
KOF MI 360 is suppose to be released sometime this year.

Last SNK news, more coverage on the 15th anniversary Garou set. Most interesting tidbit is the mention of the special movie entitled ~Memories of Stray Wolves~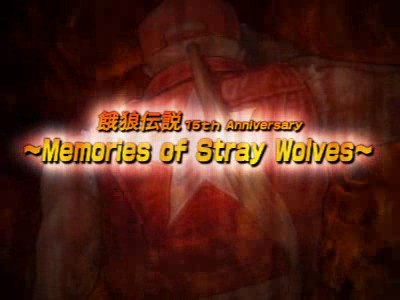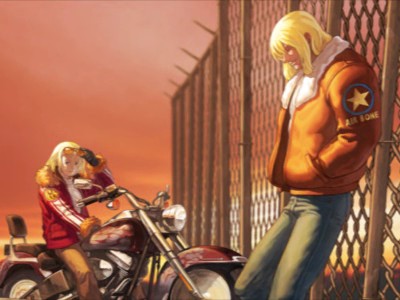 Since it's been a while, i felt the need to check for the site to check in reality again. So here's Beyonce and "Lara Croft" (in my mizugi theme of course).